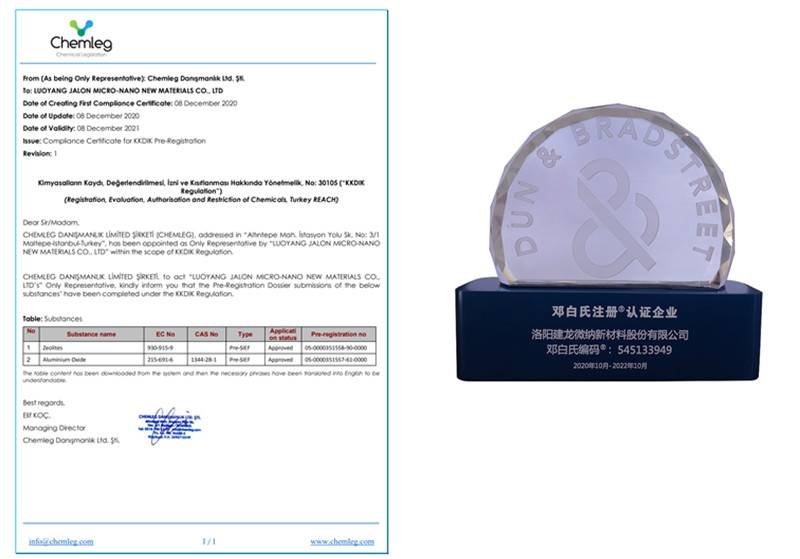 With scientific and professional production management, JALON has been the first to receive the global cerficates of ISO 9001, ISO14001, OHSAS18001, and register the D-U-N-S, being a reliable partner to support your business.
Recently, Jalon has passed the The Dun & Bradstreet Corporation again and has been certified by Dun & Bradstreet for three consecutive years.
Dun & Bradstreet became a global credit investigation company and was also listed on the New York Stock Exchange. Customers can reduce risk, increase cash flow, and increase profitability through Dun & Bradstreet's risk management solutions; Dun & Bradstreet's sales and market development programs can increase customer revenue; Dun & Bradstreet's e-commerce solutions can help customers identify potential customers more quickly ; Dun & Bradstreet's supply management program can effectively identify procurement savings items through the integration of suppliers, and protect the business from the disruption of the supply chain, or other serious financial, operational and adjustment risks.
At the same time, Jalon passed through KKDIK (Turkey REACH), KKDIK is an acronym in Turkish for Registration, Evaluation, Authorization and Restriction of Chemicals. Because it is highly similar to the EU REACH regulation, it is also called Turkey's REACH regulation.
Jalon will continuously improve our product management ability and industry competitiveness, continue to win the trust of global customers.