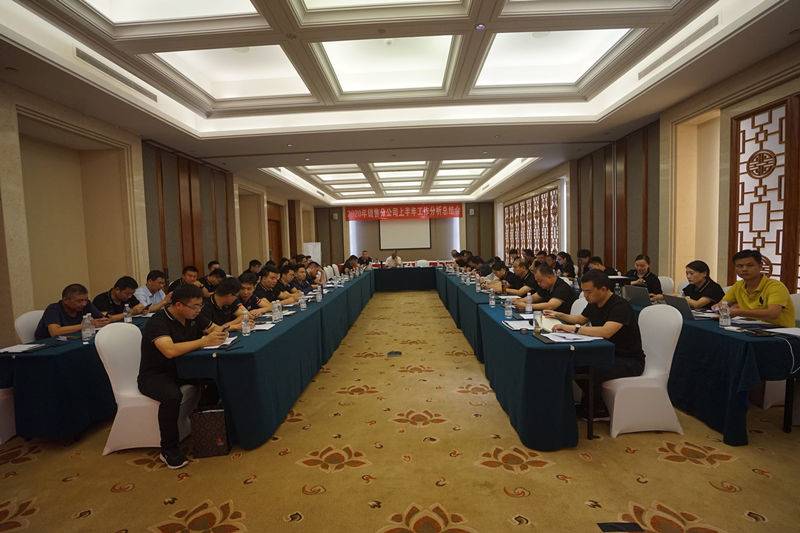 From July 11th to 12th, 2020, Luoyang Jalon Micro-nano New Materials Co., Ltd.'s 2020 sales branch's work analysis summary meeting for the first half of the year and the second half of 2020 work deployment meeting were successfully held in Wutai County, Xinzhou City, Shanxi Province, The meeting reviewed and summarized the sales completed in the first half of the year, analyzed the current situation and existing problems, and studied and deployed work tasks in the second half of the year.
"2020 is an extraordinary year. For half a year, our production and life have been spent in the haze of the epidemic, but our sales staff are not afraid of risks, face difficulties and overcome difficulties, and move forward." General Manager of Sales Branch Mr. Ning Hong bo first made a comprehensive, objective and fair summary of the sales work in the first half of 2020, and analyzed the domestic and foreign market situation in the first half of the year, and encouraged everyone to face the difficulties in the second half of the year and work hard to complete personal sales tasks in one go. Contribute one's own strength to realize the company's business goals.
The directors of First Sales Department, Second Sales Department, Third Sales Department , Three New Business Department, International Trade Department and other departments respectively report and analyze the completion of the sales tasks of the department in the first half of the year and the work plan for the second half of the year to ensure the completion of the sales target for the second half of the year .
The excellent business managers of the company conducted experience sharing and typical speeches respectively.
The meeting also invited Fan Weibin, deputy director of Shanxi Coal Chemical Institute, Wang Yufeng, deputy general manager of Jianyang Technology, and Bai Pu, director of the company's R&D center, to give training to everyone. The training content is simple and simple, which benefits everyone.
At the end of the meeting, Mr. Li Jianbo, the chairman of the company, first expressed his gratitude to everyone for their hard work in the past six months, and gave a lecture on the company's development plan and "three major strategies", and proposed that it is necessary to adhere to the "three-product strategy" and strengthen the "three-level management", And finally put forward hopes and wishes to all sales staff.